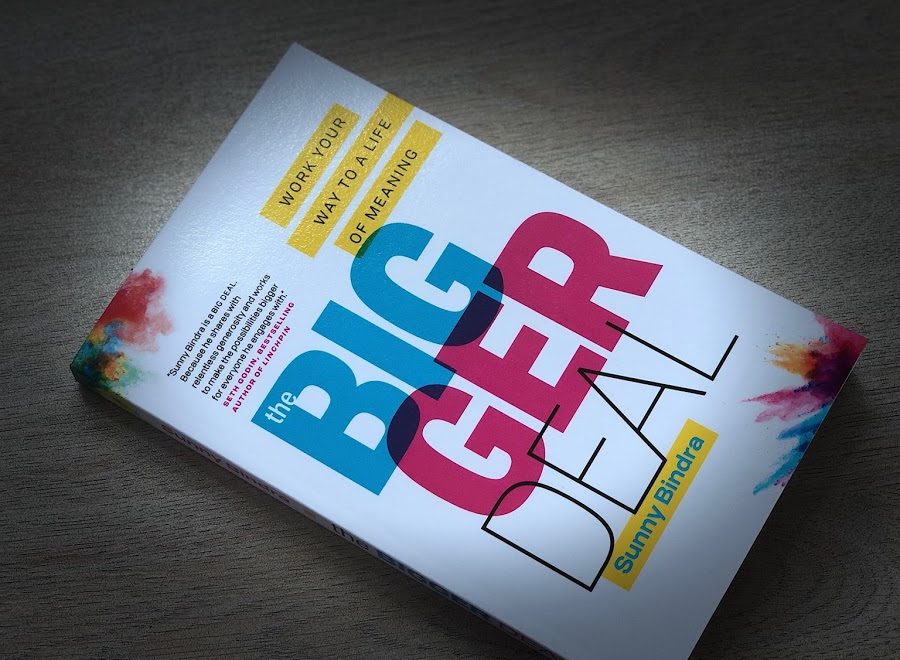 There are books about self-improvement but every now and then you land on a gem that reinvigorates you. That's how I landed on Sunny Bindra's 'The Bigger Deal'. Mr. Bindra had been visiting and facilitated a seminar strategy. True to his self (as he admits in the book) he ended the day by giving our chocolates (which he confessed to loving) and autographed copies of his book. I have just finished reading my copy and thought we could all share some motivation.
Bindra's thesis is that there is a lot more to life than we seem to be extracting from it. That…'the meaning of life is that it stops'. Our time on earth is limited. Because life is short and precious; it should matter a great deal. But many of us are stuck with the small deal: chasing and accumulating curios. We aim to be rich and envied. But then so what? Because of focusing on the small deal we go through life unfulfilled and empty. A life of hollowness and unrequited spirituality.
So what are we going to do about living a more purposeful life? That is the 'bigger deal'. Bindra argues that there are quite a number of things we can do to live a fulfilled life. He gives six lessons about how we can live his version of the 'bigger deal' and I did find his lessons uplifting.
Lesson 1: start with purpose. We all need to find something to live for. Our existence lies not in just staying alive but finding something to live for. The moment we understand that (in the end) we will amount to nothing, then we are ready to amount to something in the here and now.
Lesson 2: earn a life, not just a living. Enjoy your work and be engaged. Give the best you can and be passionate about it. One must take responsibility for what they do, anticipate and solve problems, be trustworthy and exude positive energy in order to experience a wholesome existence. Not many of us can measure up to that I am afraid.
Lesson 3: make others feel like human beings. People are not just numbers. They are not just resources to be used and discarded. They are human beings and ought to be treated properly. When people are treated properly, they become emotionally invested and give the best of themselves.
Lesson 4:create value for others. Life (and business therefore) is not just about getting and hoarding resources. It is about solving real world problems. Those who solve other people's problems in the end get more satisfaction, besides making a lot of money in the process! Your success is a byproduct of the success you give to the world.
Lesson 5: be better first then be a brand. Life is about searching for meaning. Meaning comes from creating things of lasting value for others without regard to personal reward. Therefore have values and portray those values. A brand is not what you portray, it's what you deliver. Thus be known by thy works. Your brand is the exhaust created by the engine of your life.
Lesson 6: your attitude is the big deal. Attitude is everything and people who are true to themselves are the ones with a chance of doing things that matter. Avoid a menial attitude, strive to be happy and kind because it is useless to be unhappy. Good is not brought into the world by wishing others would do it; it is by doing it yourself in the smallest but most sincere way.
A very uplifting tome I say. Just remember that your greatness is in the daily uplift you bring to those in your orbit. So go out and live your 'bigger deal'.
*'The Bigger Deal: Working You Way to A Life of Meaning' , 2018, is published by Page Two Books.
 Samuel Sejjaaka is Country Team Leader at Abacus Business School. Twitter @samuelsejjaaka