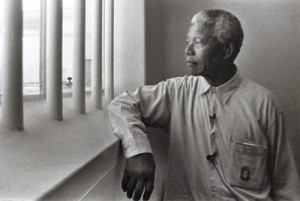 We all love  heroes. In Ganda mythology, heroes are people who did supernormal things. These are heroes whose feats we can only imagine. They are mystical and notional, used more for philosophical purposes as a basis of contextualizing our world view. In Richard Dawkins' world, they are fairies. It is therefore nice to get to know some real heroes in our contemporary lives. To know them is to appreciate that despite the vagaries of life, it is not in vain.
Apart from everybody's parents being heroes, I know of a few people whose actions have given me a sense of hope and purpose in my lifetime. If course there is the quintessential Nelson Mandela, aka., 'Madiba'. A citizen of the  world, imprisoned for 27 years, South Africa's first universally elected President. . I came to feel the Madiba effect first when I saw him walk from prison. But never have I felt so inadequate in the presence of another mortal, as I did when I read his personal insights which are recorded in the novel 'Conversations with Myself'. On page seven he writes, "The trouble, of course, is that most successful men are prone to some form of vanity. There comes a stage in their lives when they consider it permissible to be egotistic and to brag to the public at large about their unique achievements…….. I have neither the achievements of which I could boast nor the skill to do it'". This from Mandela? He walked away after one term! He is a living saint, bless his soul!
My second hero(es) of the moment are Nkosi Johnson and Philly Bongoley Lutaaya. Nkosi of South African origin again. Born with the debilitating AIDS virus, Nkosi stood up and touched the lives of so many people. The Star Newspaper of June 04, 2011 referred to him as the "Little boy who spoke the truth when his president couldn't". If he were alive today he would be 22. At the AIDS Conference held in South Africa in (circa) 2000, he said "I hate having Aids because I get very sick and I get very sad when I think of all the other children and babies that are sick with Aids". They rise highest, those who lift as they go, reads the tombstone on his grave. Philly, of Ugandan origin. He leaved in Sweden for a large part of his adult life. When he contracted the deadly AIDS virus, he returned home and owned up. Most of us looked at him as a curiosity, but he was a brave man Philly. His melodies soun d sweeter with time.
My third hero is a man I have never met, would never have known, but for his actions that gave forth the Arab Spring. Tarek al-Tayyib Muhammad Bouazizi (March 29, 1984 – January 4, 2011) was a Tunisian street vendor who set himself on fire on December 17, 2010, in protest of the confiscation of his wares and the harassment and humiliation that he reported was inflicted on him by a municipal official and her aides. His act became the catalyst for the Tunisian Revolution, inciting demonstrations and riots throughout Tunisia in protest of social and political issues in the country. Anger and violence intensified following Bouazizi's death, leading then-President Zine El Abidine Ben Ali to step down on January 14, 2011, after 23 years in power. As they say, the rest is history, but Mr. Bouazizi breathed his last by lighting a fire that will forever change the Arab world. What do you say to such a man.
Isn't it interesting that for each of these heroes there had to be and 'anti hero'? For Mandela there was the apartheid system and the whites who championed it. For Nkosi, there was the studious Mbeki, fiddling whilst Soweto burned! And for Bouazizi, all the dictators of the World. And how they wish they could bring him back to life. Saint Bouazizi, you lit one hell of a fire!