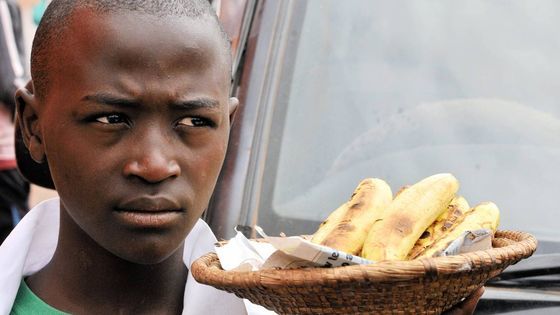 This Christmas, spare a thought for Rogers Mugibigye. I never set out to meet him but fate has a way of showing us the relatively harsher realities of other people's existence. He insistently kept on knocking on my raised car window as he carried his basket of boiled maize (corn) for sale. I had stopped to refuel at one of the Shell outlets. I was irritated and decided to get out of the car to ask him why he was insisting on selling his maize cobs to me. Before I could utter a word, he spat out a courteous 'Please sir, buy some maize from me so that I can go to school.'
My irritation vanished on the impact of his demeanor and instead I curtly asked him 'What is your name?' 'Mugibigye Rogers (sic),' he replied. 'How old are you? Why are you selling maize at this late hour? You look so young to be doing this at such a time. You should be in bed getting ready to go to school tomorrow' I asked and opined at the same time.
Rogers told that he was eleven years old and lived with his mother in a rented 'muzigo', in Namuwongo. His mother boiled the maize and he had to sell it in the evenings so that they could pay rent and school fees for him and his siblings. Even though it was late, he had hardly sold any maize and just couldn't go home. 'Please sir, buy some maize from me', he insisted.
By now I was chastised and I wanted to 'help'. So I asked him, "How much is the whole basket.' He deftly lowered the basket and started counting the maize cobs. 'Twenty one,' he answered. 'And how much is each?' I shot back. 'Five hundred shillings each,' he replied. That was a handsome Uganda shillings ten thousand five hundred! You can imagine my embarrassment on making the mental calculation that the young Rogers was peddling a full basket of boiled maize worth US $ three in the wee hours of the night.
I offered to buy all of Rogers' maize and paid Uganda shillings fifteen thousand. That is about US $ four. I still had this little problem of disposing of the twenty-one maize cobs. For help, I turned to the pump attendant and asked him if he and his colleagues 'wanted' the maize. "Certainly!' he said and proceeded to distribute the boiled maize to his colleagues. Before you could say 'kabula eggano' the maize was done and dusted. Rogers thanked me profusely, cleaned out the polythene container that he used to protect his basket and disappeared into the boiling pot that is Kabalagala.
The encounter left me wondering. My token offer of US $ four was just the kind of 'band aid' for which they sang 'Do they know its Christmas'? I had not addressed the fundamental issues of Rogers Mugibigye's existence. How many children are out there trying to fend for their families at such a tender age?  How many people go without a square three meals in a day? Recall the pump attendants were quick find accomplices to polish the maize cobs off!
This year, as you celebrate the 'immaculate conception' and birth of Jesus Christ, do spare a thought for Rogers and his ilk. As you travel to your 'village' to feast and celebrate the end of year with your relatives, be thankful for God's graciousness and mercies. Do say a 'thank you Lord', when you remember Rogers and his siblings, who between the five of them, probably have less than a dollar a day to share. Do be grateful and say, 'There but for the grace of the Lord, I go.' Despite its harshness, it is a wonderful world and we can all make it better for someone less fortunate. Have a merry Christmas and a happy new year!
Dr. Samuel Sejjaaka, is Country Team Leader of Abacus Business School. This and other articles can also be read at monitor.co.ug